Height: 5'6"
Current Weight: 160
Short-Term Goal Weight: 140
Long-Term Goal Weight: 115
Eating Disorder: EDNOS
Pictures? nort of me
Favorite Bands [optional]: the goo goo dolls, david guetta, anything to dance to
Favorite Movies [optional]: back to the future, home alone, thirteen, center stage, e.t, mean girls, the incredibles
And At Least One Thinspirational Picture: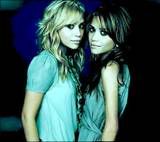 i know i'm disgusting... but plz don't judge!

i love this pic of mk...

stay thin everyone! we deserve it.